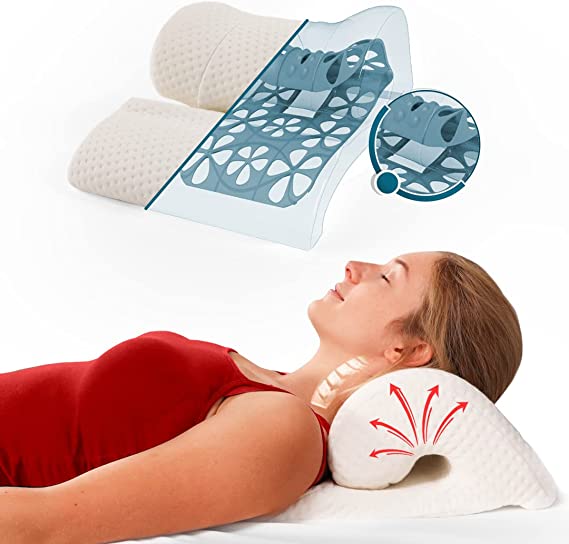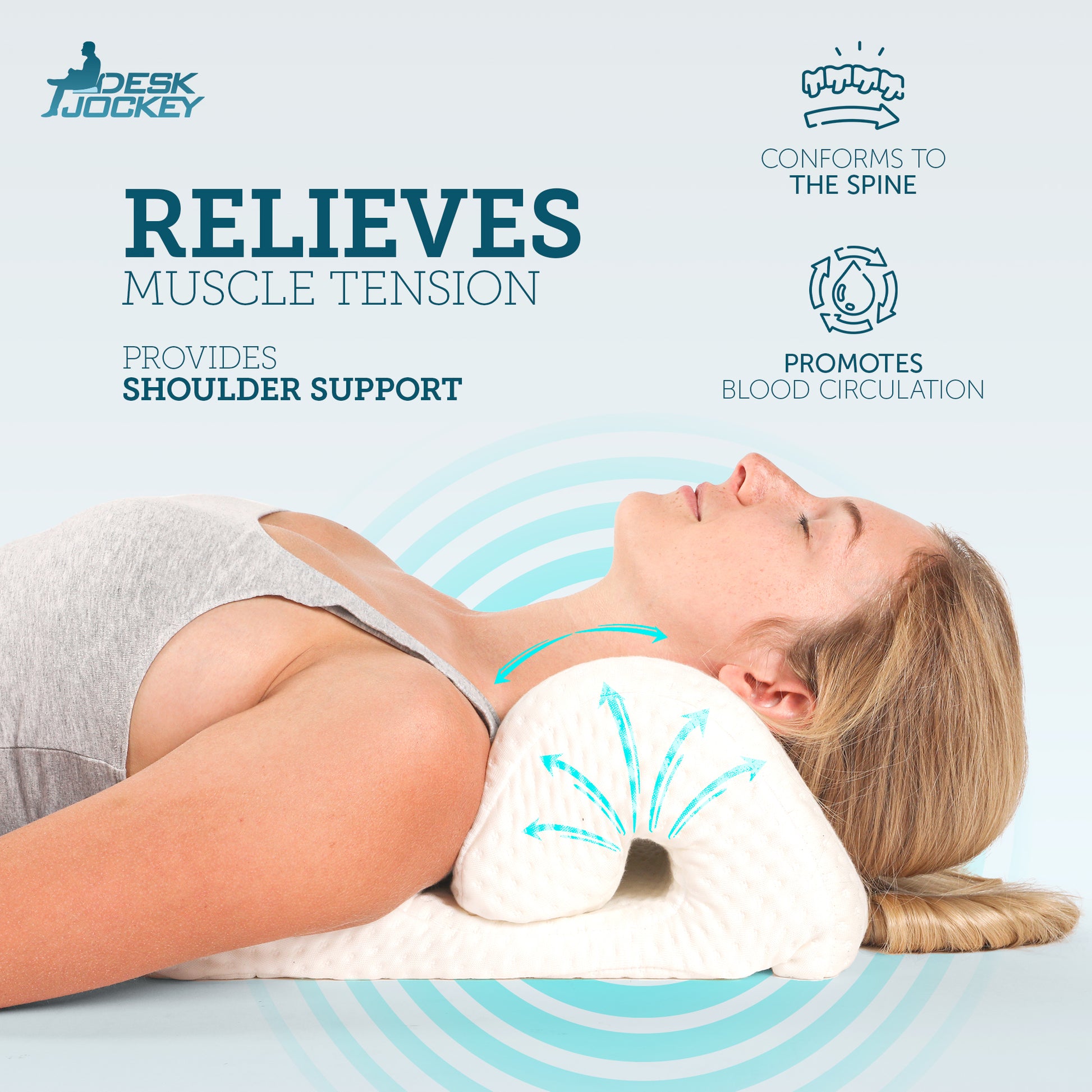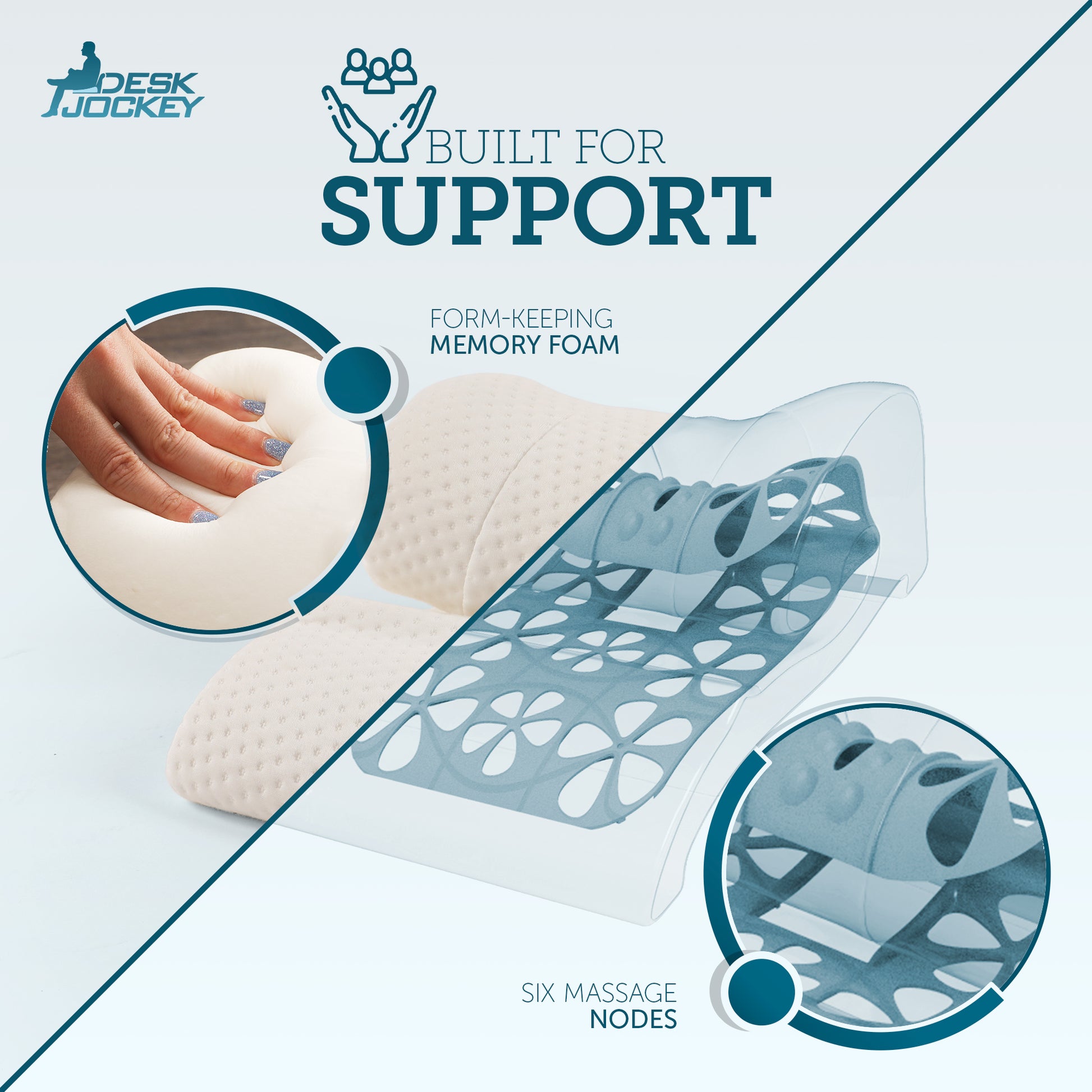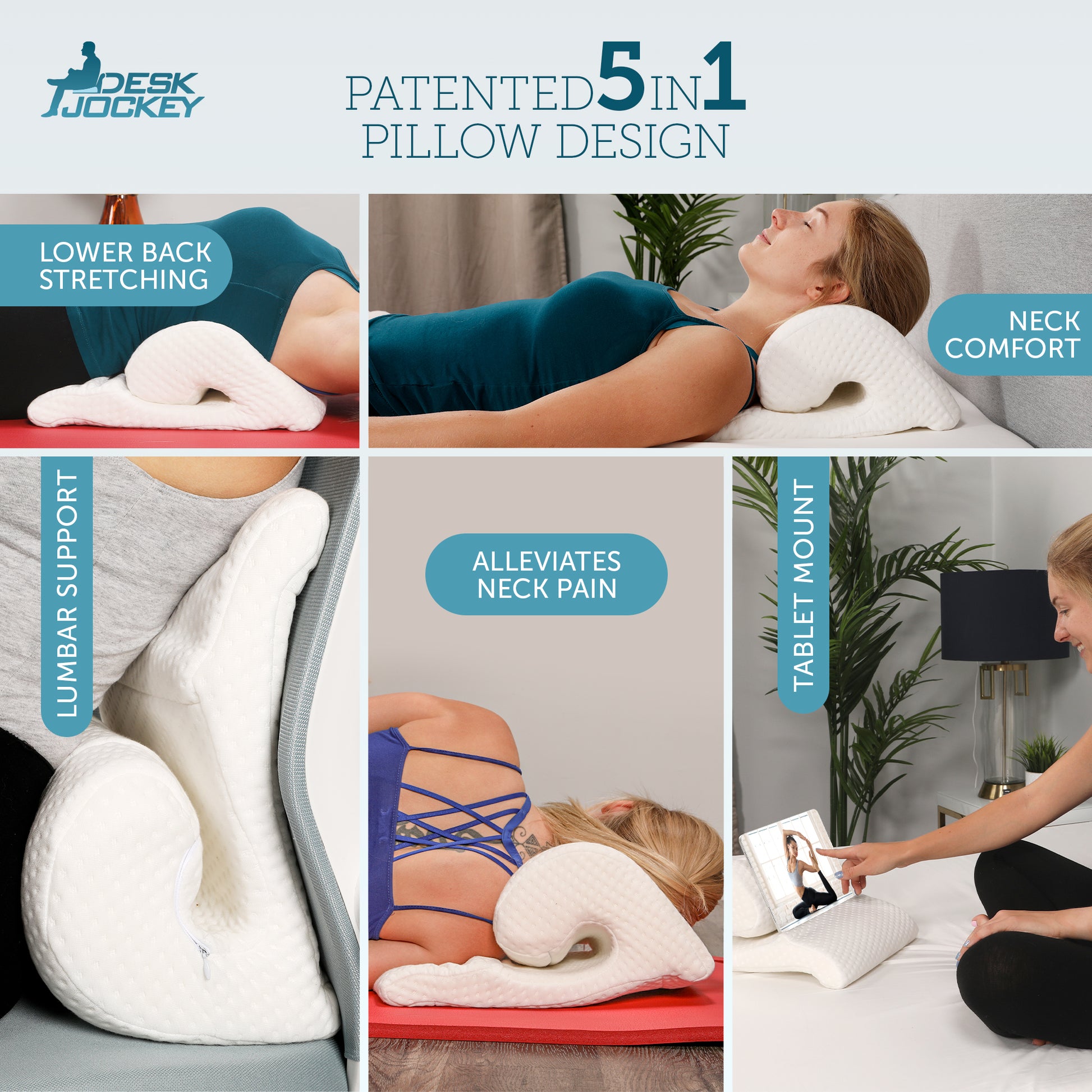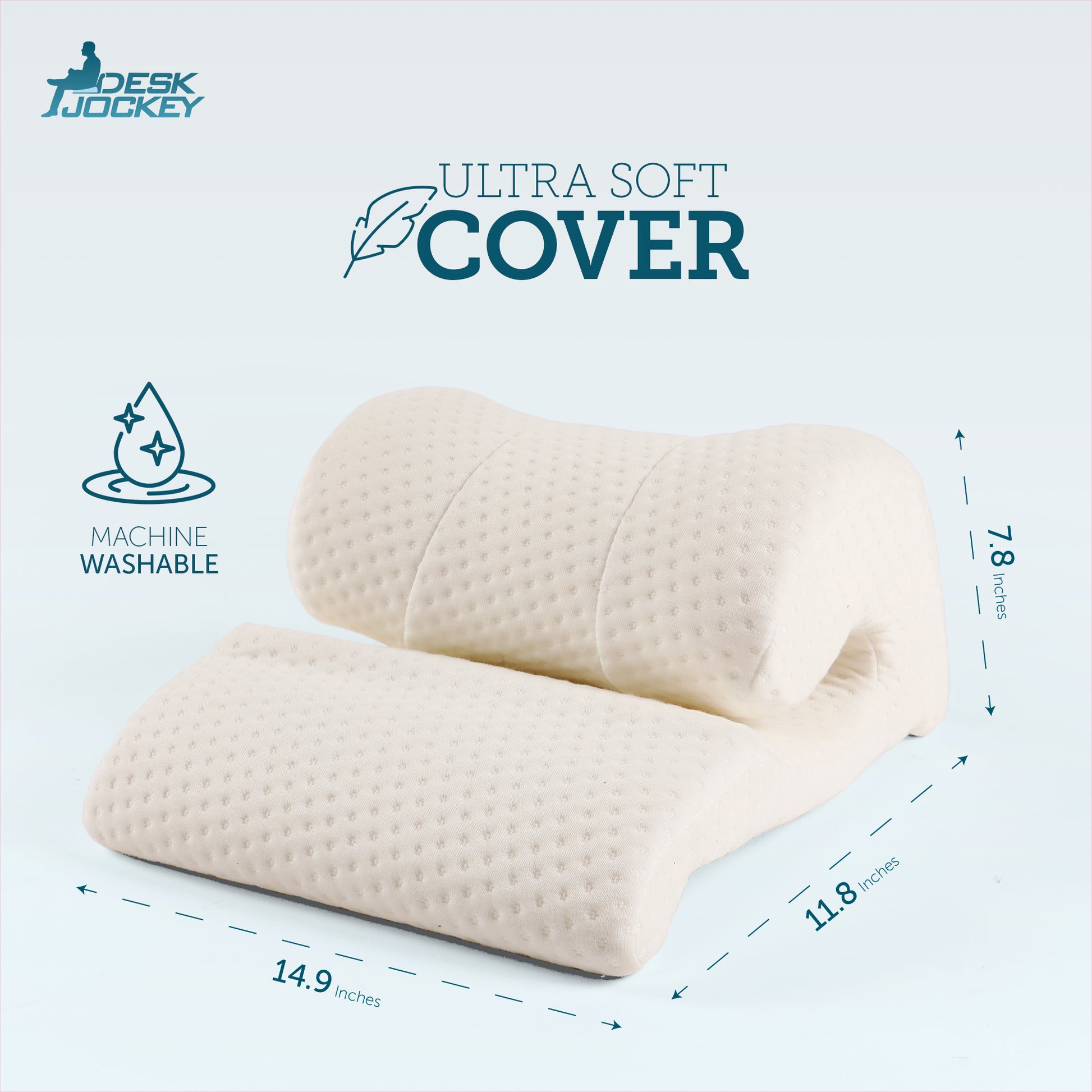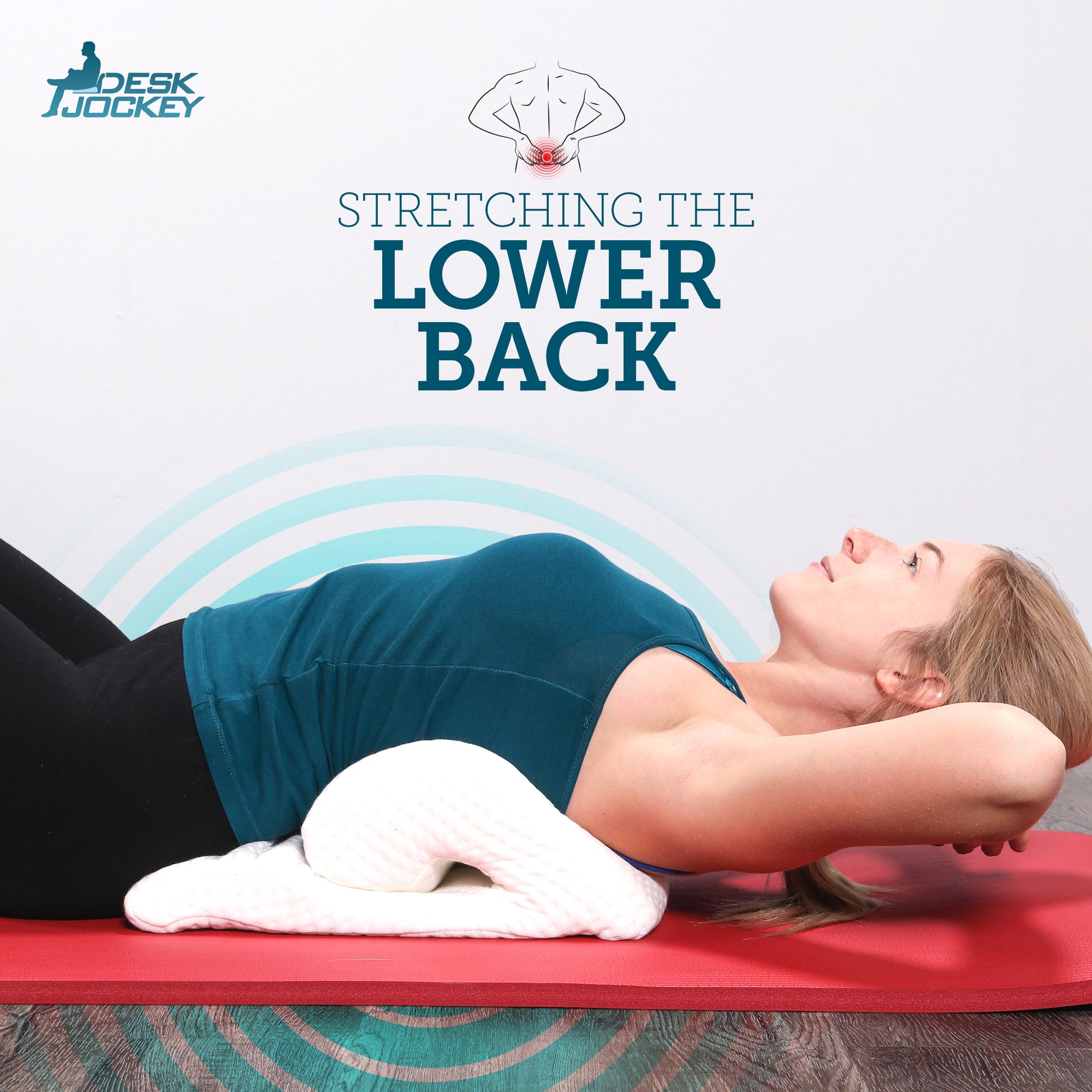 Desk Jockey's 5-in-1 Cervical Pillow for Neck Pain
Sale price
$ 39.98
Regular price
Desk Jockey's 5-in-1 Cervical Pillow for Neck Pain
Sale price
$ 39.98
Regular price
Product description
Shipping & Return
Are you tired of waking up with persistent neck pain and stiffness? Introducing Desk Jockey's Cervical Neck Pillow, your ticket to quick and lasting relief. With just 10 minutes of daily use, this remarkable cervical neck pillow will have you saying goodbye to neck discomfort for good. 
Crafted with premium memory foam that molds to the contours of your neck, it not only relieves pain but also improves blood circulation and eases muscle tension. But that's not all – this versatile 5-in-1 pillow can also be your lumbar support, meditation companion, tablet holder, and aid in lower back stretching. It pampers your skin with an ultra-soft Tencel fabric cover, while the memory foam inner works its magic.
Thanks to its patented ergonomic design, this cervical neck pillow for neck pain naturally cradles your head, neck, and shoulders, providing comfort that spreads throughout your entire body. Say goodbye to discomfort with Desk Jockey's Cervical neck pillow for neck pain relief, the ultimate cervical traction device for neck pain relief, even for cervical neck pillow side sleepers.
Description:
Our Neck Memory Foam Pillow delivers swift relief from neck pain and stiffness in just 10 minutes of daily use. With premium memory foam that conforms to your neck, it enhances blood circulation and alleviates muscle tension. This multipurpose pillow, which has five different uses, helps to relieve neck and shoulder pain as well as serves as lumbar support, a meditation partner, a tablet holder, and a tool for lower back stretching.
Wrapped in an ultra-soft Tencel fabric pillowcase, it caresses your skin gently. The memory foam interior adapts to your neck, reducing pain and stiffness. Plus, the removable cover is washable for easy maintenance. Thanks to its patented ergonomic design, our Neck Alignment Pillow naturally fits your head, neck, and shoulders, providing comfort that extends throughout your body. For long-term relief, we recommend using this cervical neck traction pillow for 2-3 consecutive days, dedicating 10-20 minutes each time to allow your neck to adapt and experience lasting comfort.
Features:
Premium Memory Foam

 Multi-Functional Design

Ultra-Soft Tencel Fabric Case

Ergonomic US Patent Design

Long-Term Relief Solution
Benefits:
Relieves Neck Pain and Stiffness

 Enhances Blood Circulation

 Reduces Muscle Tension

Versatile Usage

Soft and Refreshing Fabric

Long-Term Comfort
Discover the ultimate neck memory foam pillow for neck pain relief and cervical support!
Why Choose Our Product: 
Desk Jockey's memory foam Cervical Pillow stands out with its premium materials, versatile design, and proven effectiveness. 
FAQs:
Do cervical pillows help neck pain? 
Yes, our cervical neck traction pillow is designed to relieve neck pain and stiffness effectively.
Which pillow is best for cervical pain? 
Desk Jockey's Cervical Pillow with memory foam and multi-functional design is an excellent choice.
Is a pillow good or bad for neck pain? 
A suitable cervical pillow can be incredibly beneficial for neck pain, as it provides support and relief.
How do I use a cervical pillow? 
Use it for 10-20 minutes a day, allowing your neck time to adjust and experience long-term relief.
Can everyone use a cervical pillow? 
Yes, our ergonomic design makes it suitable for most individuals seeking neck pain relief.
Doctor's Note:
Medical professionals recommend Desk Jockey's cervical neck pillow for sleeping as a non-invasive solution for neck pain and muscle tension.
Satisfaction Guarantee:
We stand by the effectiveness of our product. 
Conclusion:
 Why settle for neck pain when Desk Jockey's Neck Pain Relief Pillow, a versatile multifunctional cervical traction device, can offer you quick, effective, and long-lasting relief? Say goodbye to those sleepless nights and wake up pain-free like our satisfied customer Sarah. Crafted with premium materials and featuring contour memory foam, this neck pillow for pain relief is your path to a pain-free life.
Keep in mind that it's a solution, not simply a pillow. It is suggested by medical specialists as a non-invasive treatment for neck discomfort and muscle stress. And if you're not completely satisfied, we back our product with a 30-day satisfaction guarantee. Take control of your comfort, invest in your well-being, and experience the difference today with Desk Jockey's Traction Pillow for Neck Pain!
Shipping cost is based on weight. Just add products to your cart and use the Shipping Calculator to see the shipping price.
We want you to be 100% satisfied with your purchase. Items can be returned or exchanged within 30 days of delivery.