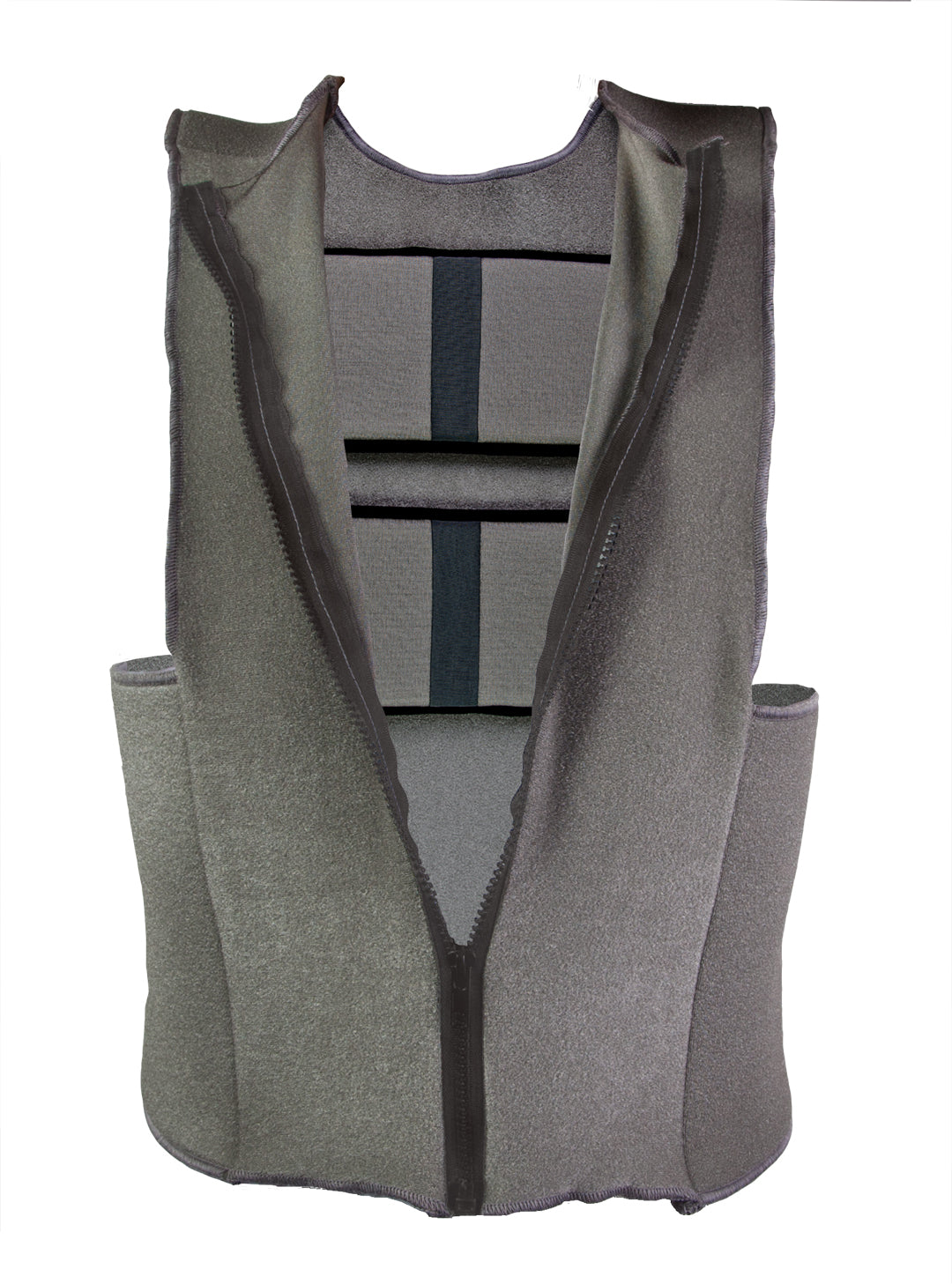 Sale price
$ 204.00
Regular price
Electric Vest
Sale price
$ 204.00
Regular price
Product description
Shipping & Return
In the ever-evolving world of wearable technology, heating vests have emerged as a revolutionary solution to combat chilly temperatures and keep you cozy during the coldest months. It is designed to provide efficient warmth without compromising on style or mobility. Electric vests have quickly gained popularity among both men and women users. Electric vests are an innovative way to stay warm during various outdoor activities. The top-tier heat vest for men and women offers a snug fit via adjustable pulls for all users. It's paired with fabric conductive electrodes, and Velcro in these electrodes is pressed onto the treatment area to initiate therapy.
Description: 
Electric heated vests are the latest breakthrough in cold-weather gear. Our heating jackets are available for both men and women offering a versatile and fashionable option for those who refuse to let the cold hinder their outdoor adventure. These vests have been made to combine cutting-edge technology with comfortable.
Size:
No matter your body type, you'll find electric vests for men & women designed to fit you perfectly. With a range of sizes available, these vests ensure a snug comfortable fit. It provides you to move freely while enjoying the warmth
Features:
Advanced Heating Elements: Heating vests are equipped with high-quality heating elements that distribute warmth evenly across your body, targeting key areas like your chest and back.
Adjustable Temperature Settings: You have complete control over your comfort with adjustable temperature settings. Choose from various heat levels to find your ideal warmth.
Battery-Powered: Our vest is battery operated vest. These vests are powered by rechargeable batteries, offering hours of continuous heat on a single charge.
Easy Maintenance: Most heated vests are machine washable, making maintenance a breeze.
Benefits:
Efficient Heat Distribution: Electric vests use advanced technology to ensure that warmth is evenly distributed preventing cold spots.
Enhanced Comfort: Say goodbye to bulky layers. Electric vests provide a sleek and comfortable way to stay warm.
Versatile Use: Why you're not to go out with your pet hiking, skiing, or simply walking on a cold day, these vests are a versatile addition to your winter wardrobe.
Improved Circulation: The gentle warmth from the vest's heating elements can aid in improving blood circulation, offering potential health benefits.
Reduced Energy Costs: By keeping your core warm, electric vests allow you to lower your thermostat indoors, leading to potential energy savings.
Why Choose Our Product:
Our electric vests stand out from the rest due to their exceptional quality and thoughtful design. With a focus on providing optimum warmth and comfort, our vests are crafted to endure various outdoor conditions while keeping you cozy.
Satisfaction Guarantee:
We are confident that our electric vests will meet and exceed your expectations. Our policy is always to look for our customer satisfaction. If they face any problem with the product we have a return policy for this. And the Return policy is very comfortable for customers
FAQ:
Are Electric heated vests any good?
Electric heated vests are a fantastic solution for staying warm in cold conditions. They are designed to efficiently distribute heat and offer versatile comfort for outdoor activities.
How do electric vests work?
Electric vests use battery-powered heating elements to generate warmth, which is then evenly distributed across the vest. Adjustable settings allow you to control the level of heat.
What is a heated vest used for?
A heated vest is used to provide consistent warmth during chilly weather. It's perfect for outdoor enthusiasts, commuters, and anyone who wants to stay comfortable in the cold.
How long do heated vests last?
Heated vests typically provide warmth for 4 to 10 hours it's depending on the settings. Our vests offer hours of heat on a single charge, ensuring extended comfort.
Do heated vests keep you warm?
Yes, electrically heated vests are designed to keep you warm by providing a controlled source of heat directly to your core, maintaining your body temperature even in cold environments.
Conclusion:
Embrace the convenience and luxury of electric vests as you tackle winter's chill head-on. With advanced technology, customizable warmth, and a range of styles, these vests ensure you'll never have to compromise on comfort or style again. Explore the world while staying warm and cozy with our exceptional line of electric vests – the perfect fusion of innovation and comfort providing a reliable source of warmth wherever you go.
Shipping cost is based on weight. Just add products to your cart and use the Shipping Calculator to see the shipping price.
We want you to be 100% satisfied with your purchase. Items can be returned or exchanged within 30 days of delivery.