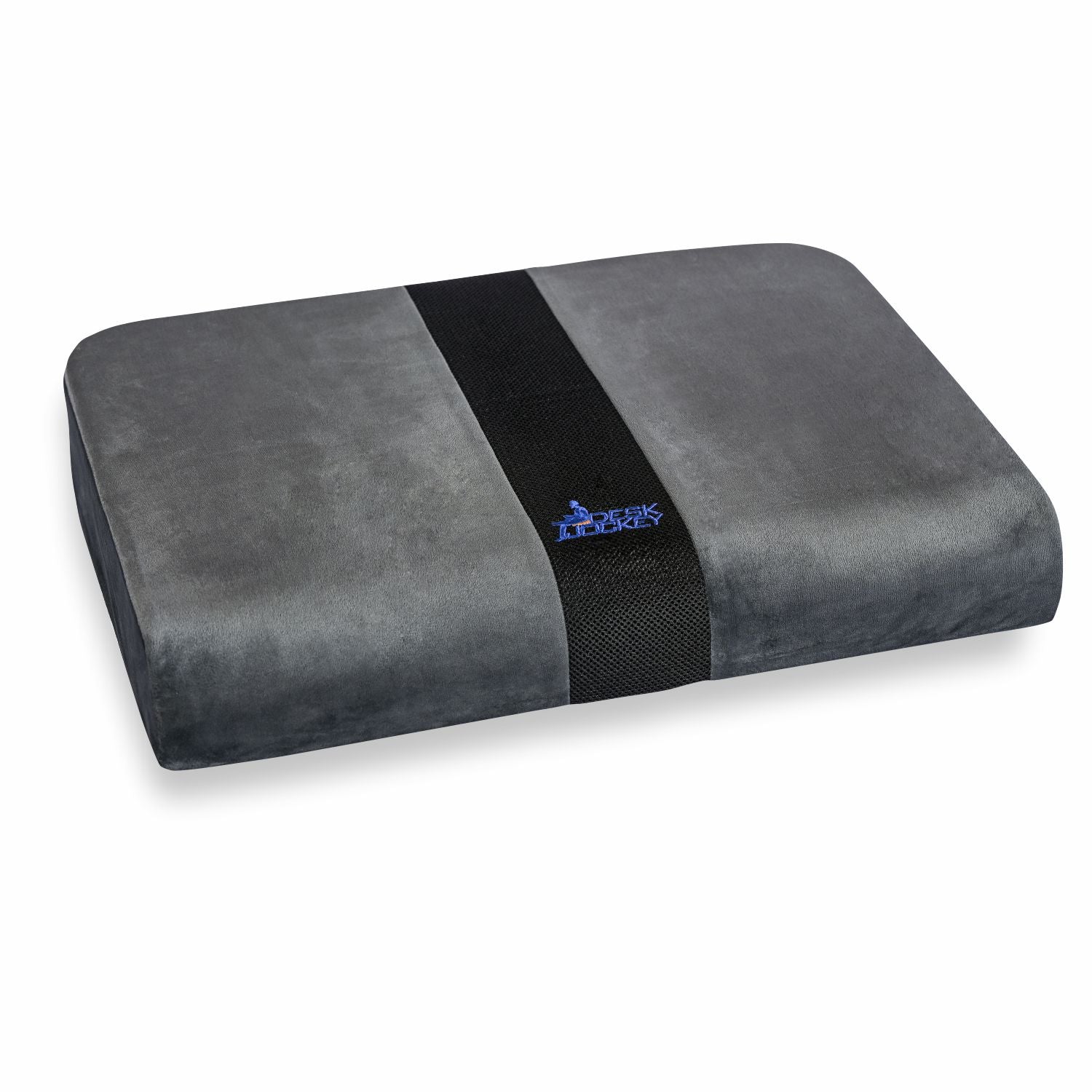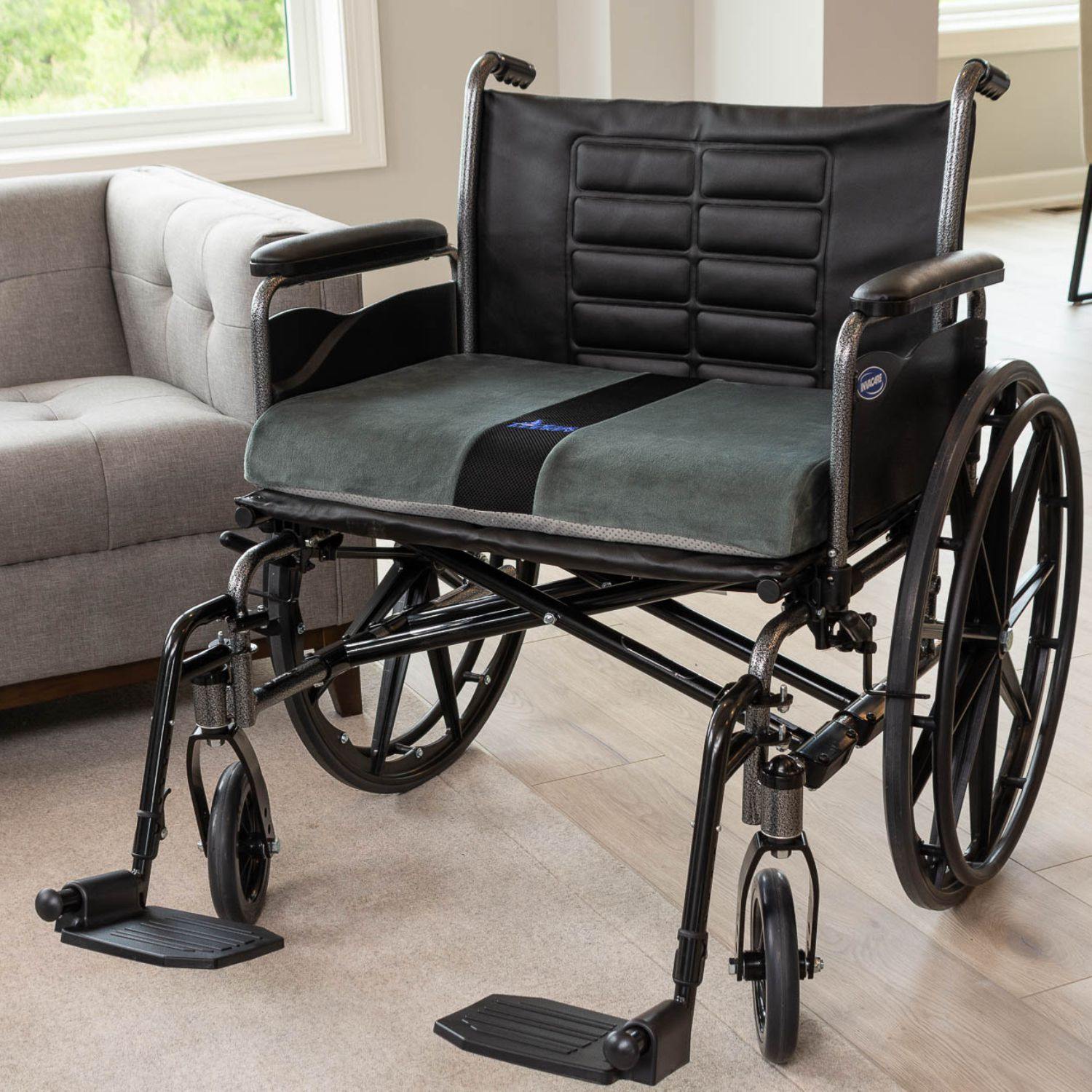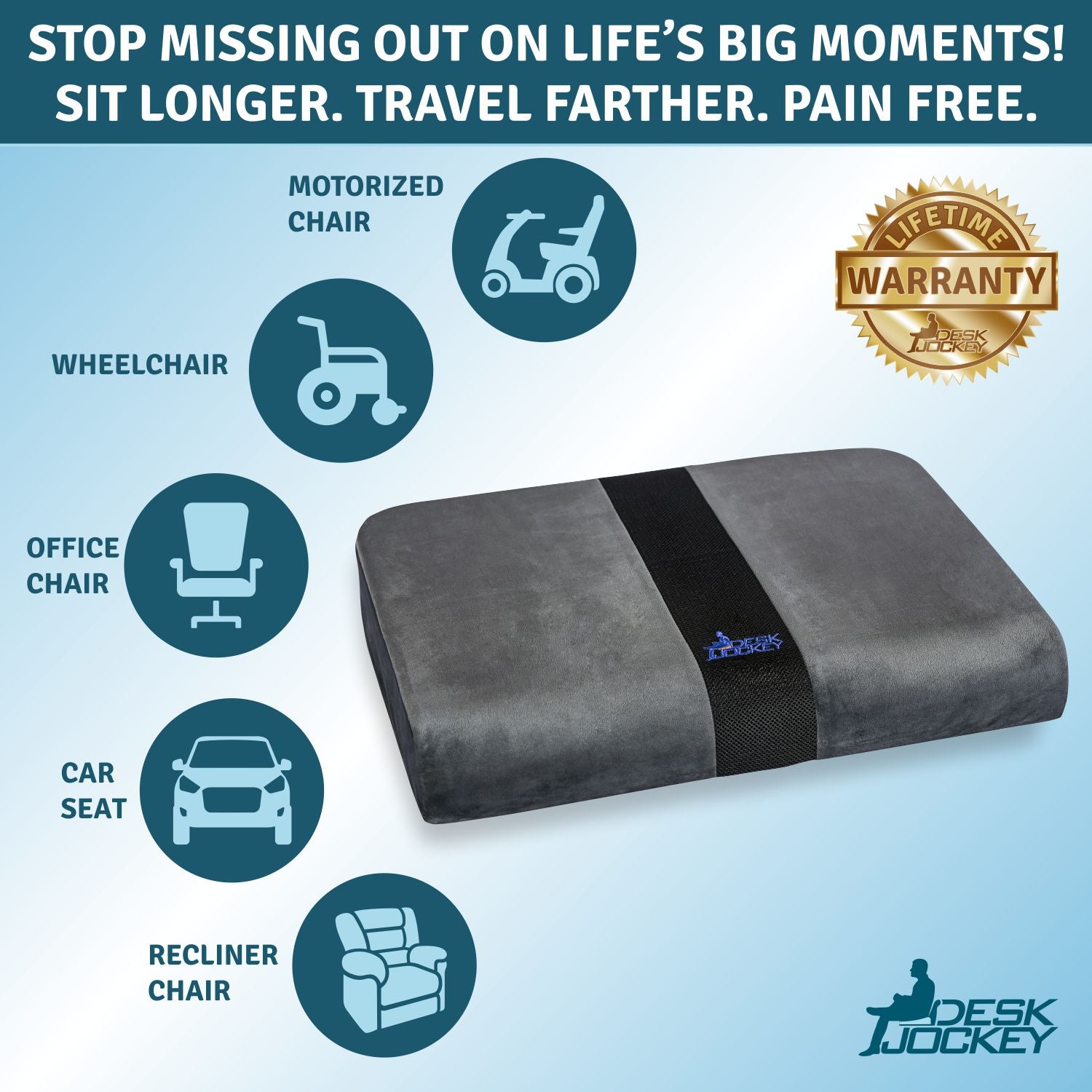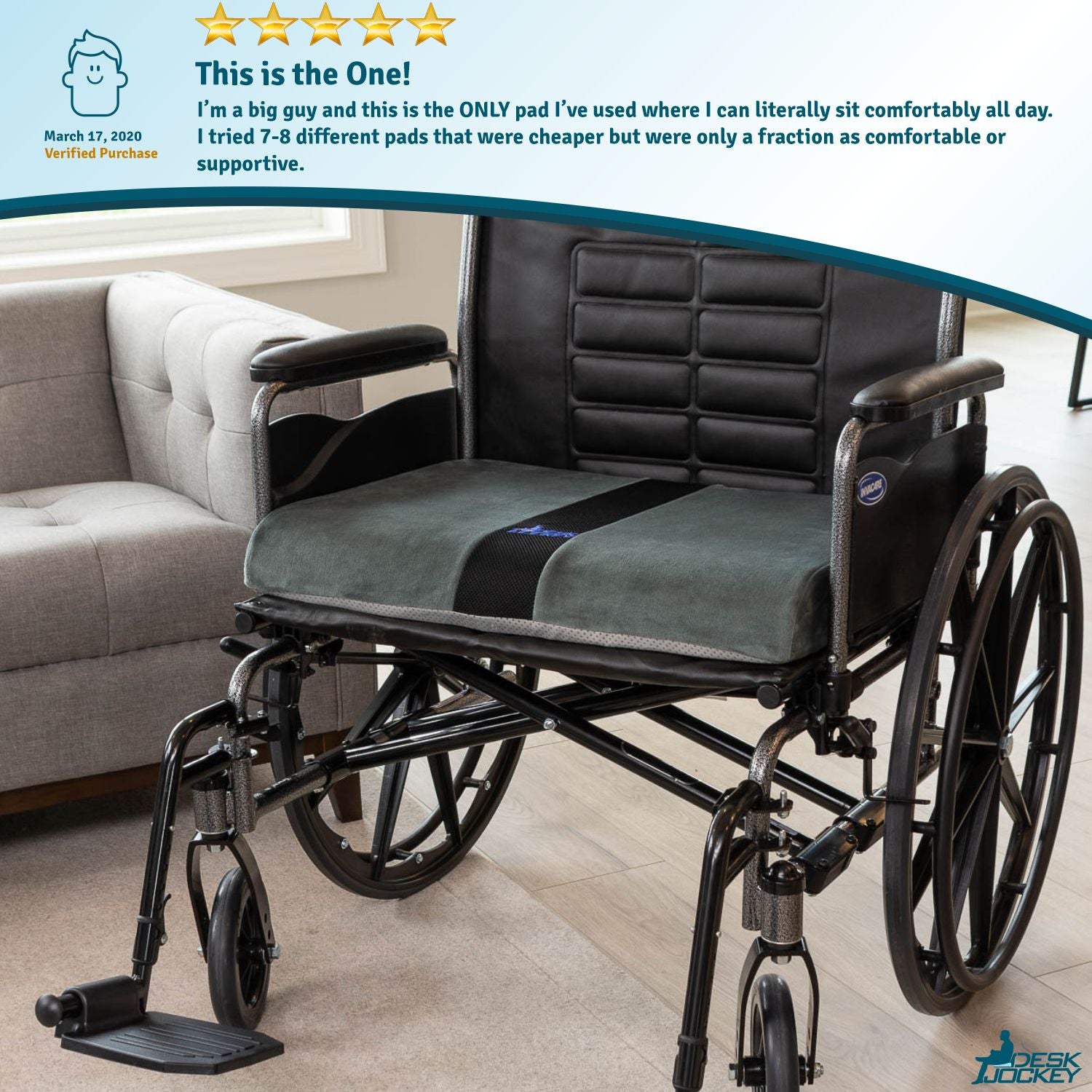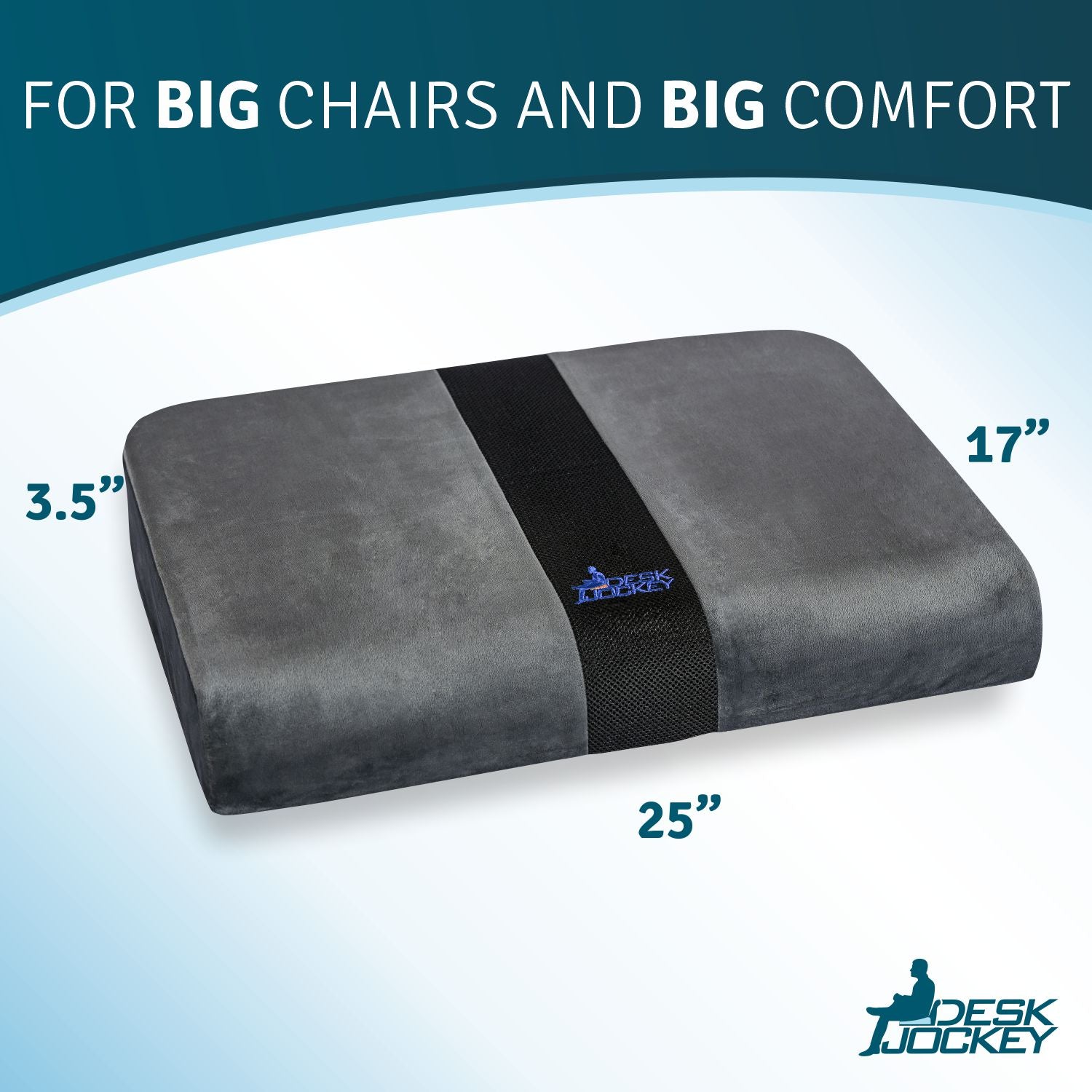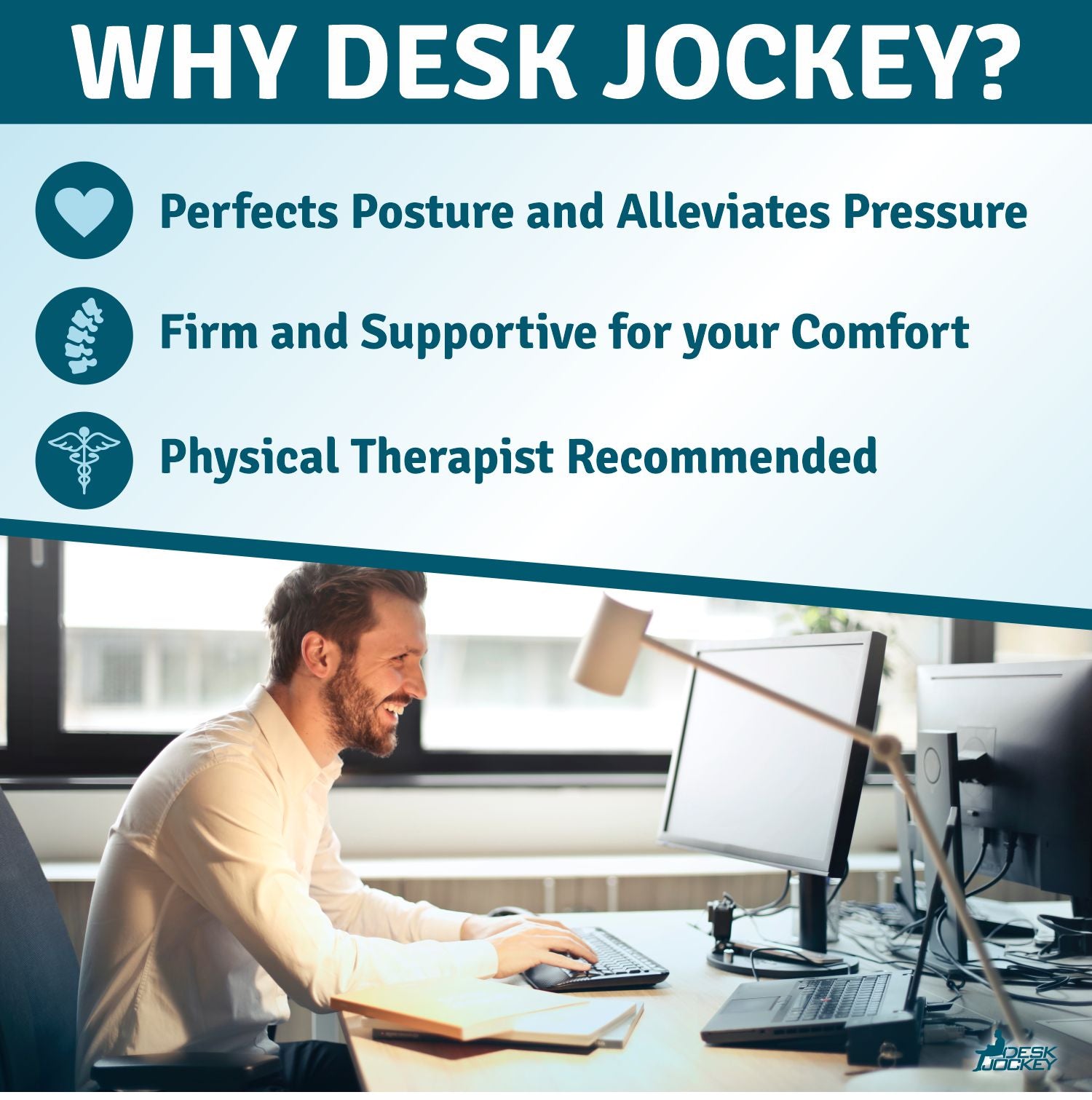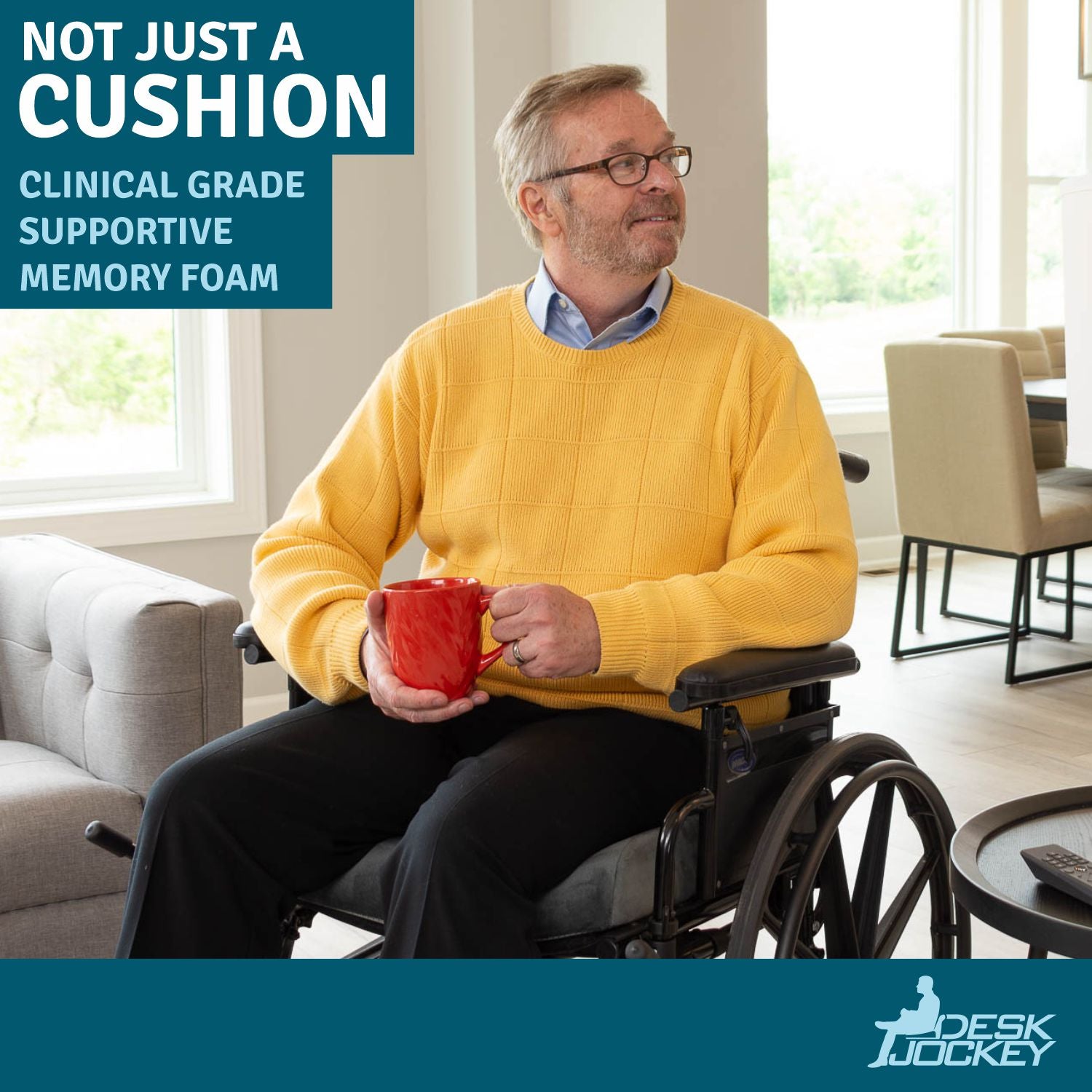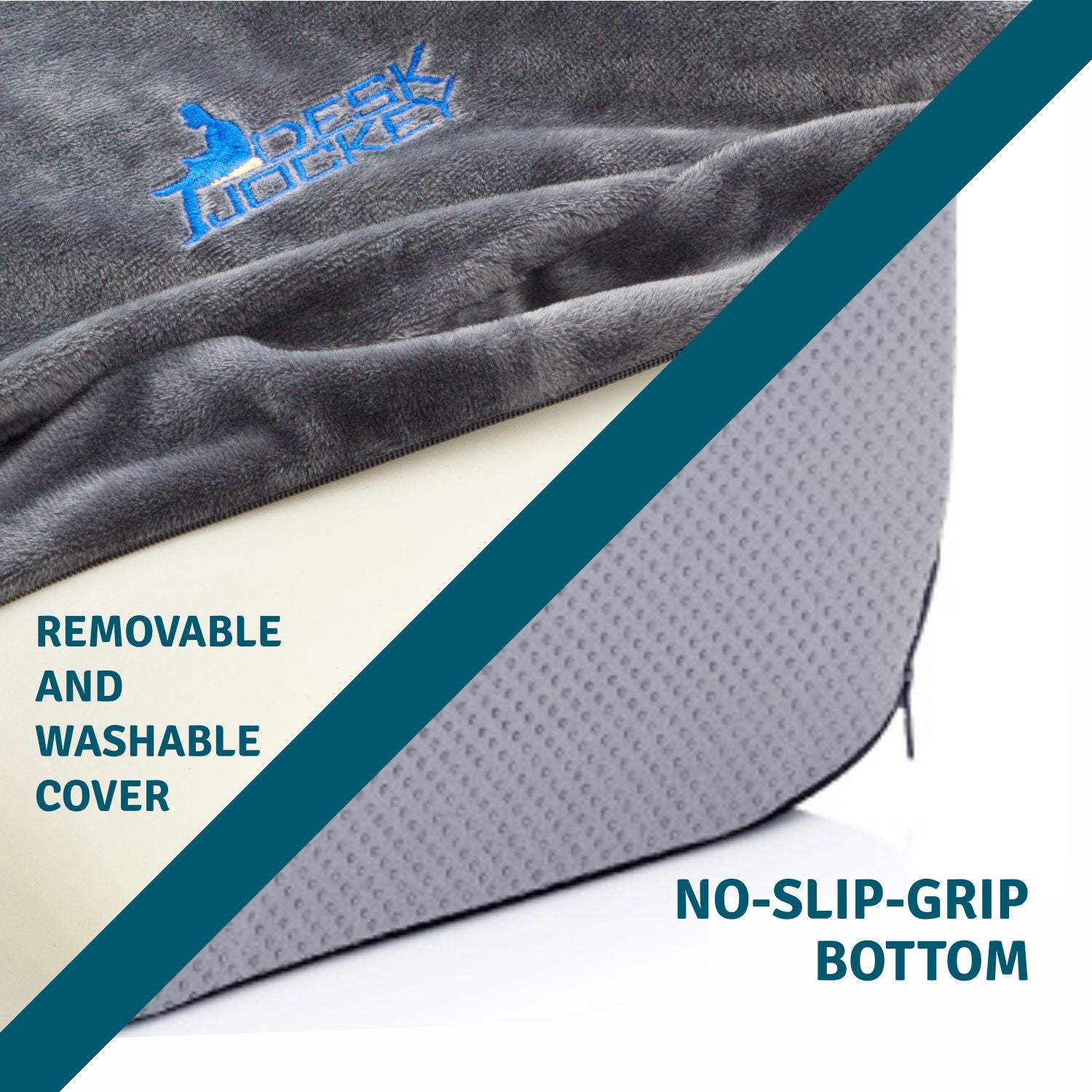 Memory Foam Office or Wheelchair Cushion for Oversized Chairs
Sale price
$ 69.99
Regular price
Memory Foam Office or Wheelchair Cushion for Oversized Chairs
Sale price
$ 69.99
Regular price
Product description
Shipping & Return
Are you tired of uncomfortable seating in your extra wide wheelchair cushion or office chairs? Say hello to the game-changer – our Big & Tall best wheelchair seat cushion with extra large Memory Foam! Experience next-level comfort and ergonomic support that's tailor-made for you. 
Wave goodbye to discomfort and hello to all-day relaxation. It's time to transform the way you sit!
Our wedge cushion for wheelchairs is tailored for those seeking ultimate comfort in wide wheelchairs and office chairs. Crafted with a high-quality wheelchair chair cushion cover, it contours to your body, reducing pressure points and promoting healthy posture. Users, between 200 and 500 lbs can use the 25-inch comprehensive model.
25-inch width Optimal for users 200 to 500 lbs
BEST WHEELCHAIR CUSHION AVAILABLE AROUND, HIGHEST QUALITY
The best wheelchair cushion for reducing sitting pain, enhancing posture, and enhancing comfort is our oft-copied but never-repeated seat cushion.
A seat cushion without support serves no purpose.
Finally, a seat cushion for a wheelchair for the big and tall provides comfortable support. With you in mind, we created a revolutionary cushion with a SUPPORTIVELY DENSE SYSTEM, ideal for individuals weighing over 200 pounds.
NO OTHER ORTHOPEDIC SITTING PILLOW FEELS LIKE YOUR NEW BEST FRIEND.
When you open your new Desk Jockey, you'll see that we provide a leading standard with our clinical therapeutic grade memory foam most comfortable cushion to sit on. A seat cushion that is extremely broad, extra thick, and adequately contoured is made using our exclusive secret foam recipe and is explicitly created to hold up to 500 pounds comfortably.
PERMANENT SUPPORT FOR RELIEF FROM BACK, BODY, AND SCIATICA PAIN
Our wheelchair pillow cushions are created to be used for a lifetime... You can sit for hours on end without it becoming flat! Desk Jockey's cover is removable and washable, so you can keep it looking and smelling fantastic for years.
AVOID SETTLING! SIT WITH THE POWERHOUSE BRAND IN CONFIDENCE
Why take a chance on a "fly-by-night" brand when you genuinely need the product to work? Because we consult with a board-certified physical therapist to ensure our goods are the best in the business, we are confident that THIS IS WHAT YOU'VE BEEN SEARCHING FOR.
Features: Designed for You:
Extra Wide Fit: Perfectly sized for more extensive seating options.

Premium Memory Foam: Provides personalized support and cushioning.

Breathable Cover: Removable and easy to clean for long-lasting freshness.
Benefits: Your Comfort, Your Way Relieve discomfort and fatigue with:
Enhanced posture and spinal alignment

Alleviated pressure on hips and tailbone

All-day comfort, whether in a wheelchair or at your desk
Why Choose Our Product:
Thoughtful design for big and tall individuals.

Premium materials for durability and comfort.

Innovative features for ergonomic support.
Customer Testimonials: "I finally found a cushion that fits my wheelchair and keeps me comfortable all day!" - Mark S. "It was hard to work a long time in my office sitting on a normal chair. This cushion is a game-changer!" - Sarah L.
FAQs: 
What is a cushioned seat?
Ans: A cushion for a wheelchair seat, like our Big & Tall Memory Foam Seat Cushion, is a padded accessory with superior comfort and ergonomic support. It's for extra wide wheelchairs and office chairs, ensuring relaxation during extended sitting.
What are the uses of seat cushions?
Ans: Cushions for wheelchairs are versatile accessories that provide ergonomic support and comfort in extra-wide wheelchairs and office chairs. It reduces discomfort and promotes healthy posture during extended periods of sitting.
What type of cushion is best for a wheelchair?
Ans: The best cushion for wheelchairs is like our Big & Tall Memory Foam Seat Cushion, designed with high-quality memory foam to provide personalized support, reduce pressure points, and enhance comfort during extended wheelchair use.
Which cushion size is best?
Ans: The best cushion size depends on your needs. Our Big & Tall Memory Foam Seat Cushion is ideal for extra-wide wheelchairs and office chairs, offering tailored support and comfort.
What is the cushion effect?
Ans: The pillows for wheelchairs effect refers to the comfort and support provided by our Big & Tall Memory Foam Seat Cushion. It helps relieve pressure points and promotes relaxation during long periods of sitting.
Doctor's Note:
Dr. Amanda Martinez, MD, says, "Proper support is crucial for those with larger frames. This cushion provides the comfort needed for extended sitting."
Satisfaction Guarantee:
Experience comfort risk-free with our 60-day satisfaction guarantee. You have 60 days to test it. So don't miss it and hurry up!
In conclusion, say goodbye to discomfort and hello to a revolution in seating comfort! Our Big & Tall Seat Wheelchair Cushion is your key to all-day relaxation in extra-wide wheelchairs and office chairs. Redefine your well-being with our wheelchair seat pad cushion, and experience a new level of ergonomic support. 
Your ultimate comfort partner awaits – it's time to elevate your sitting experience! Experience comfort beyond boundaries. Elevate your sitting experience with our Big & Tall Wheelchair Cushion Cover. Your well-being is redefined.
Shipping cost is based on weight. Just add products to your cart and use the Shipping Calculator to see the shipping price.
We want you to be 100% satisfied with your purchase. Items can be returned or exchanged within 30 days of delivery.